We are pleased to introduce our Senior Six Team for 2021-2022.
We are looking forward to working with them over the next academic year.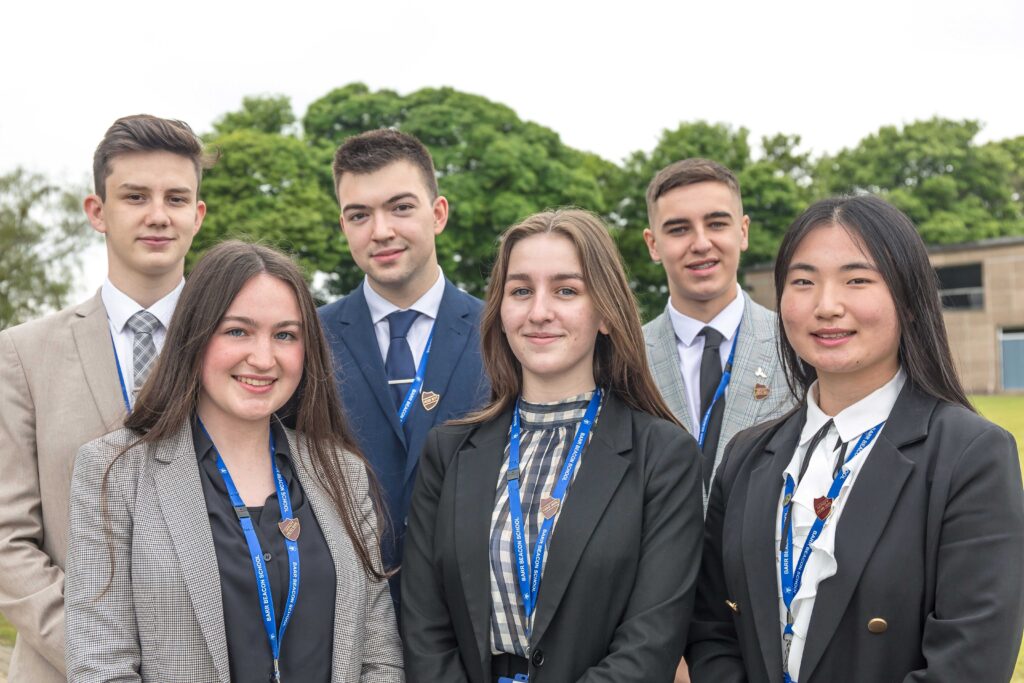 ---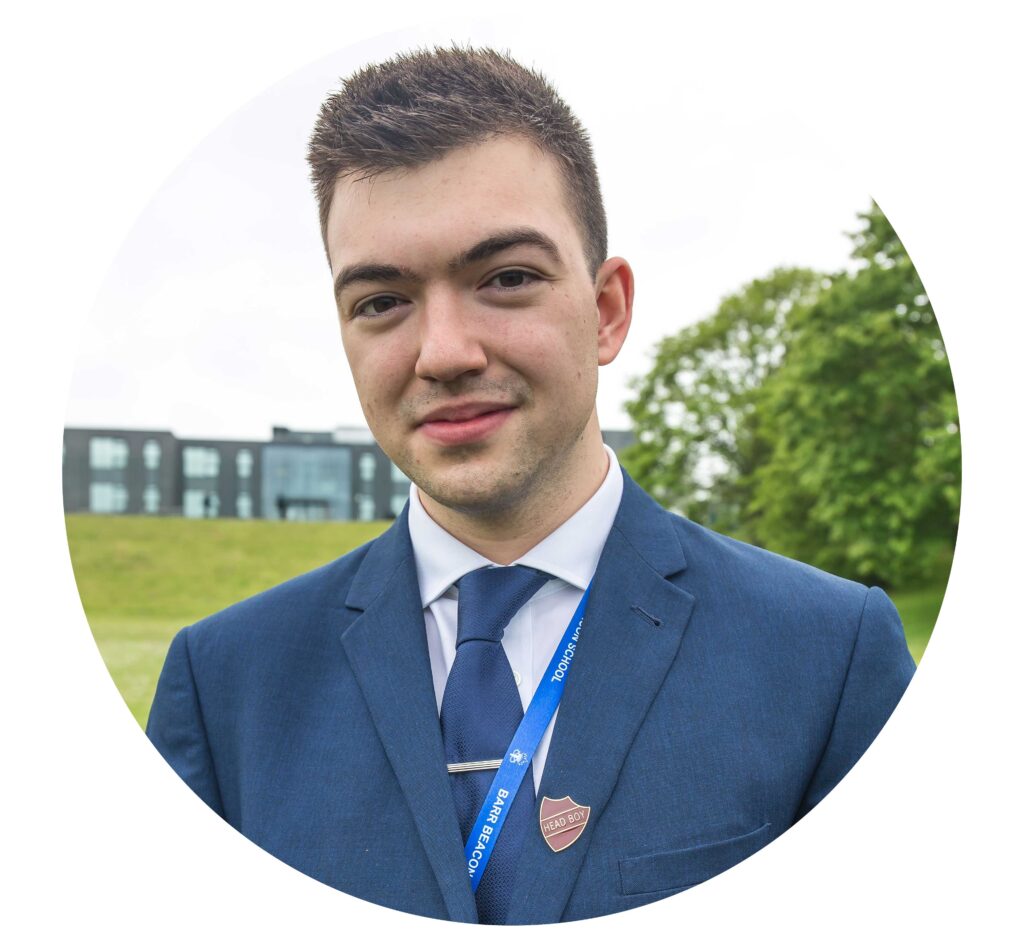 Six years ago, I had the privilege of joining this amazing school and I still believe now what I knew then: that this is the school for me.
Barr Beacon has given me countless opportunities throughout my time here, from participating in the Duke of Edinburgh award scheme to flying aeroplanes in the school's Cadet Force. This school truly has it all. These experiences have shaped me into the person I am today, which is something that I will always remember and be grateful for, for the rest of my life.
Barr Beacon School has given me the confidence and knowledge to try new things, to step outside my comfort zone and to be the best version of myself. Now in 2021, I have achieved a major goal of mine that I set myself Year 7 – becoming Head Boy. I knew this role would be hard to achieve and I knew I had to put in the work to achieve this, but that's the nature of seeking success. Success isn't "lucky"; it's sheer hard work and dedication.
I am honoured be Head Boy at such an amazing school. I am here to listen, support and encourage all ideas from all pupils. Every idea, however small, is important me. So, let us achieve greatness together.
Jack Tranter – Head Boy
---
From my first day in Year 7 to joining Sixth Form, Barr Beacon has always supported and provided me with ways to flourish both personally and academically. From Duke of Edinburgh and musicals to university residentials and trips, there has been a constant flow of support, allowing me to engage with more opportunities than I ever thought possible. I have always held the title of a Barr Beacon pupil with pride and now feel privileged to be Head Girl. I am truly grateful for my time at Barr Beacon School: a school that shapes pupils into esteemed individuals with passions and character that will carry them into their future.
Abbie Bromwich – Head Girl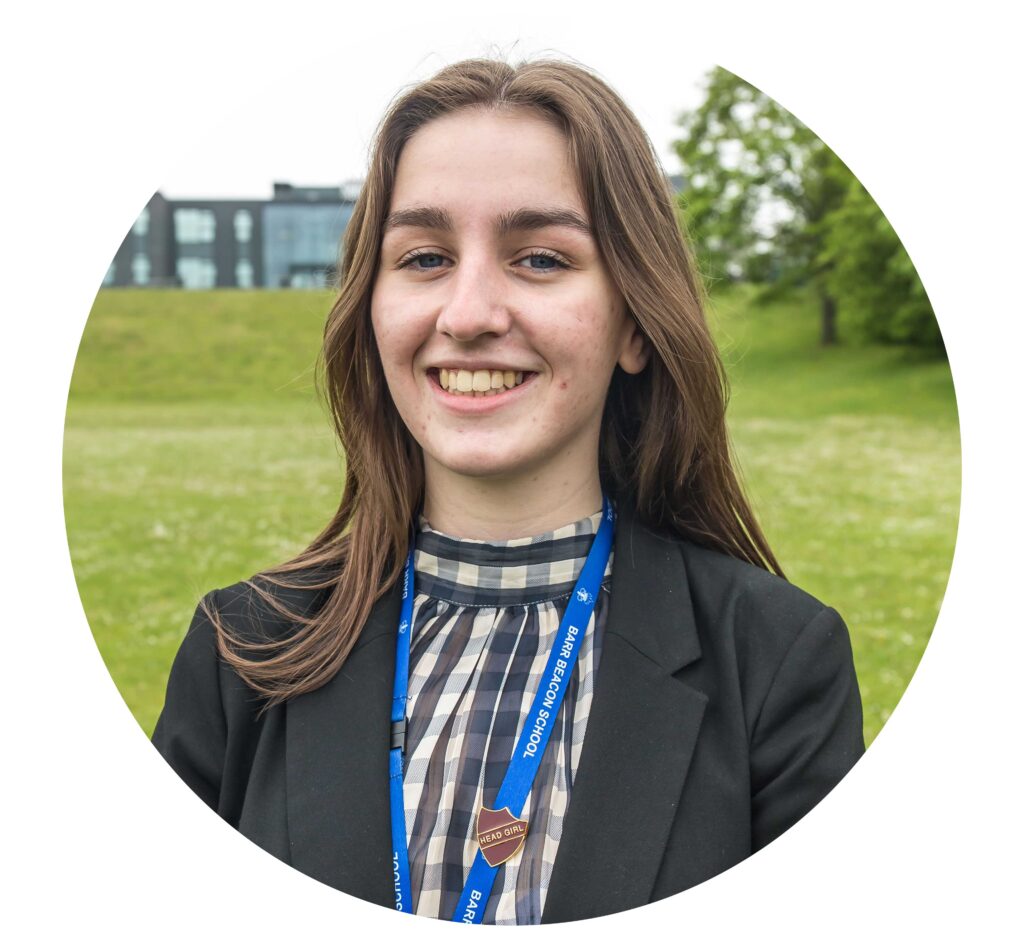 ---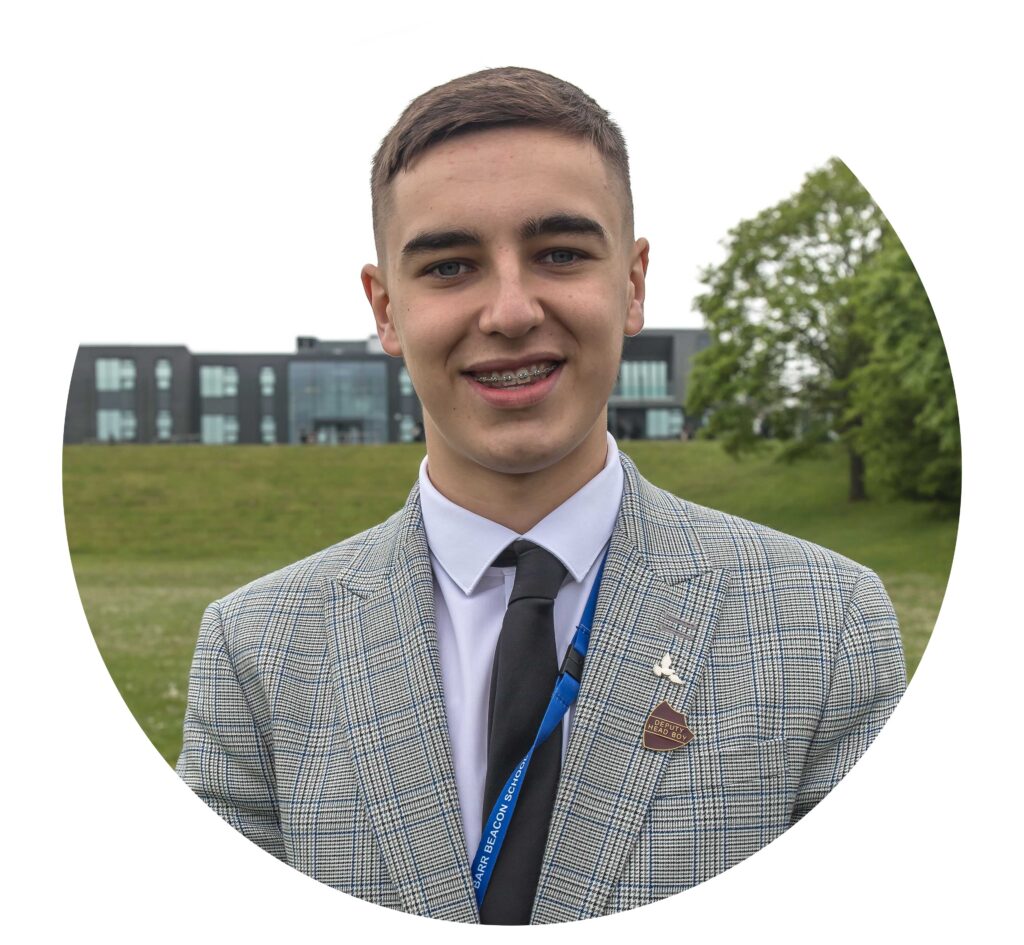 Since joining in 2015, this school has been nothing short of fantastic. Barr Beacon School ensured my years of adolescence were ones of progression with additional support and determination to succeed. Barr Beacon has provided me a platform of not just academic learning but one of developing character attributes too. Highlights such as my phenomenal trip to New Hampshire (USA), being a Prefect, work experience and being given the chance of representing the West Midlands County Football across the country ensured I gained independence, openmindedness, courage and integrity. This school has enabled me to throw myself into opportunities that I never would have imagined when walking in on my very first day. My cherished experiences coinciding with the learning pathway I have chosen have set me up to be proud to succeed.
Charlie Birch – Deputy Head Boy
---
Barr Beacon School values the individuality and achievements of all its pupils. Since starting a new journey at this school in 2015, I was offered uncountable opportunities to push myself further and develop the essential skills required, not just for school, but for my life after Sixth Form. Becoming a Prefect allowed me to strive to reach my maximum potential, gaining confidence and teamwork skills. Completing the Duke of Edinburgh Awards has also taught me the importance of trust and determination.
'Proud to succeed' is our motto and I am very proud to be your Deputy Head Girl, representing our outstanding students and working together with the excellent teachers. I am extremely grateful to those who have encouraged and supported me to become the young adult I am today, as without you I would be a very different person, telling a very different story.
Boran Fang – Deputy Head Girl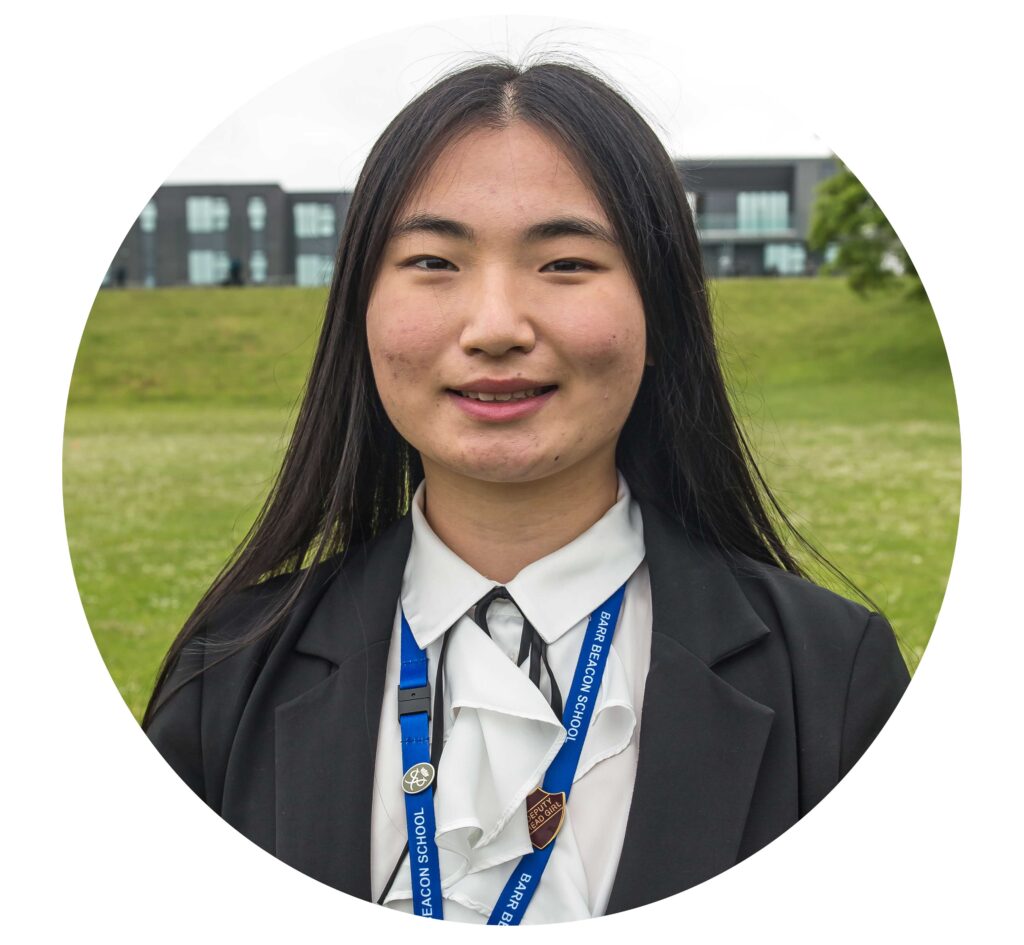 ---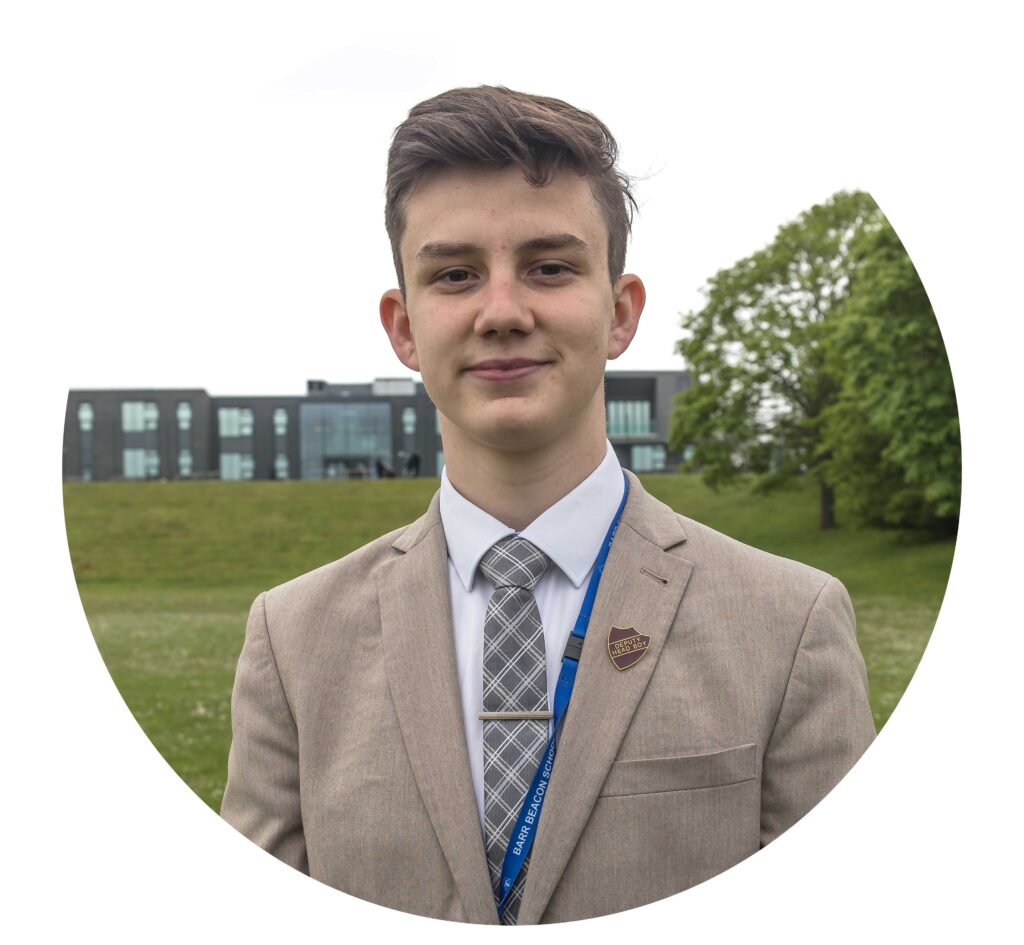 When I first started at Barr Beacon School in 2015 it was such a daunting experience being the only pupil from my primary school. Since the very beginning Barr beacon supported, encouraged and moulded me into the confident young man I am today.
Barr Beacon challenged me to be better whilst still retaining my individuality. This culture guided me to lead the school's Cadet Force as their sergeant and I proudly represented Barr Beacon in shooting competitions.
I have made amazing friendships and memories at the school which will allow me to share and encourage future generations. We strive to do better and Barr Beacon supports me not only academically but also to grow as an individual. I am proud to succeed.
William Mellor  – Deputy Head Boy 
---
Since an early age when a close family friend attended, Barr Beacon School has been a choice I made – I especially liked the idea of there being a swimming pool. Then, my first memory of Barr Beacon School, almost a decade later, presented itself as seeing the headteacher and listening to her deliver a speech about the expectations, pointing out her Prefects around the school hall to demonstrate them. This is when I knew I wanted to represent this prestigious school like the Prefects were doing at that moment. Throughout my years at Barr Beacon School, the staff and older students demonstrated that this is more than a school – it is a tightly-knit community, constantly helping one another and taking pride in the achievements of others, not only themselves. With this, Barr Beacon School helped me to achieve my dream through the abundance of opportunities on offer. By being able to take part in the Bronze, Silver and currently Gold Duke of Edinburgh Award, I have developed my teamwork, confidence and leadership skills, preparing me for the world of work.
Being Deputy Head Prefect in Year 11, I was able to showcase all of those skills and embark on new ones such as organisation and seeing what it is like behind the scenes of school life. I have always been someone who has a love of learning and Barr Beacon School has only encouraged me further. Since joining Barr Beacon Sixth Form, I have enjoyed completing an Extended Project Qualification (EPQ) and attending many university lectures and work experience opportunities that have been provided for us by the Sixth Form Team. All of these experiences will support my application to universities. As Deputy Head Girl, I aspire to fuel everyone with determination to succeed and ensure every Barr Beacon pupil is as prepared for their future as Barr Beacon School has made me.
Maisie Amos – Deputy Head Girl