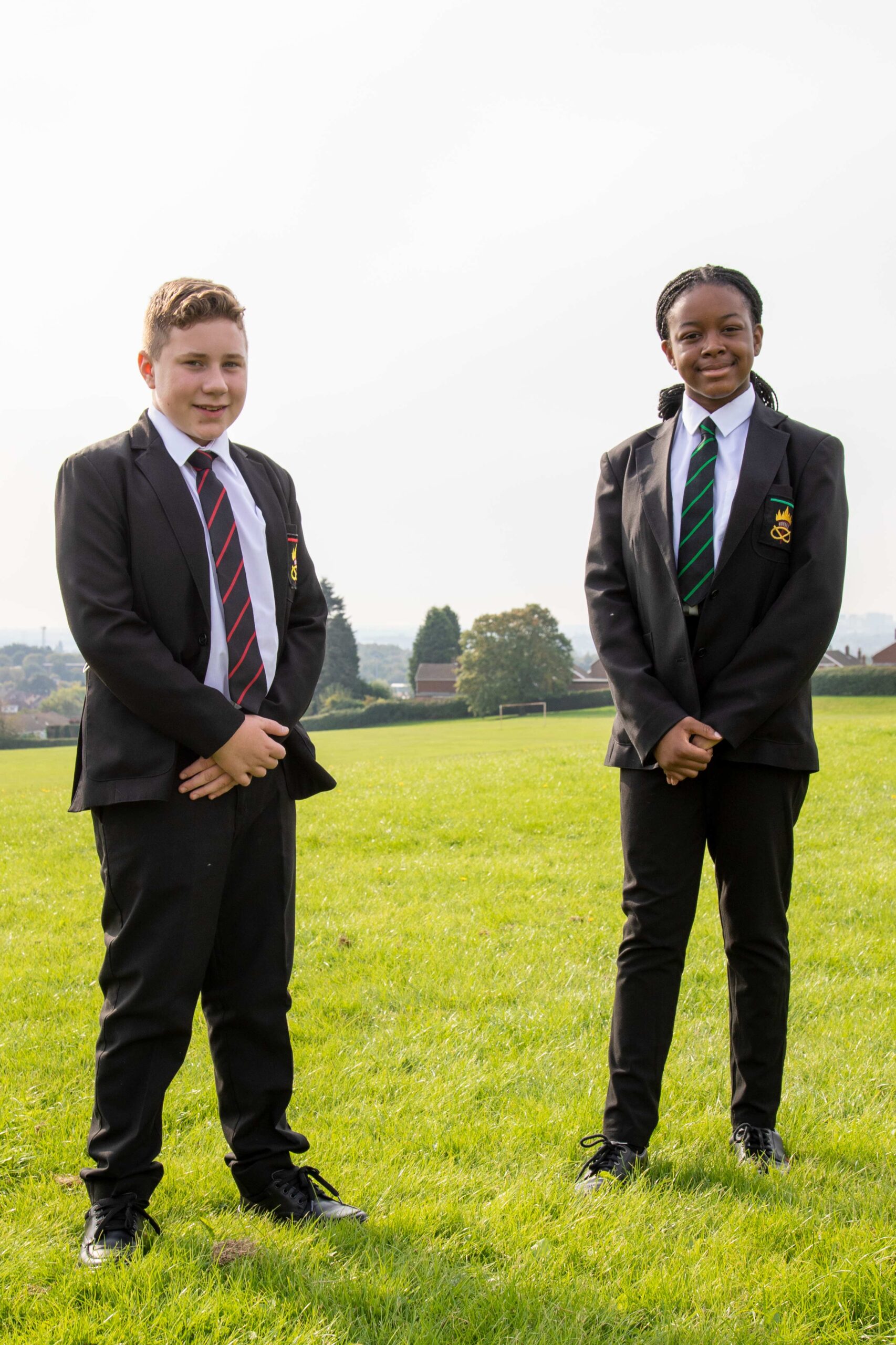 Black blazer (with school badge).
Black trousers or a black knee length skirt of a suitable length (Approx. 5cm above the knee). 'Skinny' trousers are NOT permitted. Trousers and skirts must not be lycra or jersey material.
White polyester/cotton shirt (worn with school tie) with a top button. To be worn tucked into waistband of skirt or trousers.
House tie to be worn with 6 stripes visible.
Black socks or black tights (no patterns, frills or over knee socks).
Smart black polishable leather school shoes which are sensible and lightweight. Training shoes, canvas shoes and fashion boots are not acceptable.
Black 'v' neck sweater (optional). No cardigans.
Plain colour outer coat (not leather or denim).
Black, plain headscarves, wraps, bands, or hair clips/ornaments (must be tucked under blazers with the school tie visible).
Bandanas are not permitted.
Fake tan is not permitted.
Any cult and another extreme of fashion, hairstyles or body piercing is banned.
False nails and gel nails are not permitted in school.
The House tie and blazer badge, design by Clive Marks, are available from Clive Marks, Uniform Plus or the School Shop. Note: We do not have expensive designer variations on any standard uniform for any year group.
Coats must not be worn inside buildings and must be removed upon entry to any building. Hoods can only be worn up during adverse weather conditions.

Example of Acceptable School Trousers
PE KIT FOR ALL PUPILS
White short sleeve polo shirt with collar.*
Plain black shorts or plain black tracksuit bottoms or Barr Beacon school leggings.
Trainers (must not be high tops or pumps).
White ankle socks (must not be trainer socks).
Football boots.
Plain black football socks.
Plain black swimwear.
Swimming hat of any colour (for pupils with long hair only - your child's PE teacher will advise on hair length during their first lesson).
OPTIONAL FOR ALL PUPILS
Plain black sweatshirt (with school badge and embroidered name).*
Rugby top.
Gum shield (recommended).
DANCE KIT
Plain black t-shirt.
Plain black shorts or plain black tracksuit bottoms or Barr Beacon school leggings.* (with school badge and embroidered name.)
Students are expected to participate in dance lessons with bare feet unless they have a medical condition. In this case, students will need to wear socks with grip.
Pupils MUST bring PE kit to all PE lessons. If pupils fail to bring kit, they will be expected to wear school kit.
*It is expected that all of these items of PE kit will have the pupils initial and surname stitched into the garment.
Uniform Plus, Clive Marks, Crested Schoolwear and Uniforms.School know our requirements and will advise you accordingly.