Introducing our 2020-2021 Senior Five.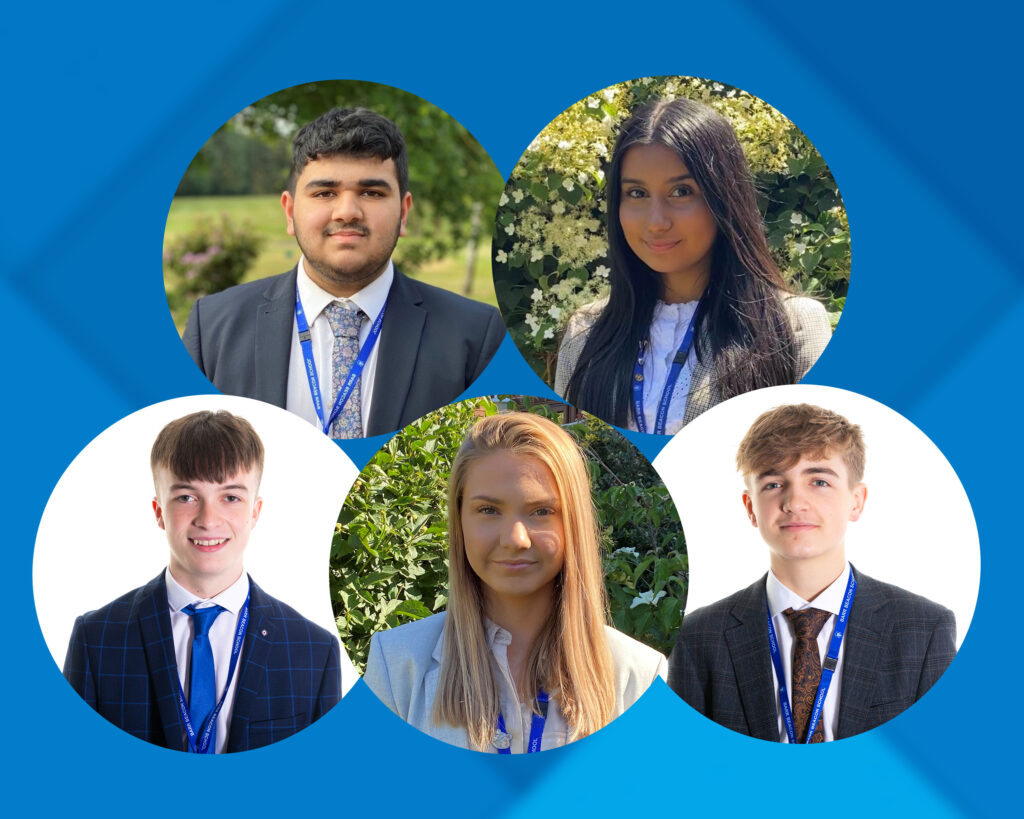 Since starting at this school in 2014, saying that I have changed from that shy and timid boy to who I am today is a bit of an understatement! This change I can only attribute to this school. Over the years, Barr Beacon School has given me countless amounts of opportunities, such as the Erasmus trip to Sweden and a residential at the University of Exeter. Experiences like this have aided in my character development and if you had asked Year 7 Ibrahim whether he'd see himself as Head Boy, he would've told you it was never going to happen! I know now that nothing is impossible, and my story can show you that anyone can dream BIG and achieve. With the staff support, you can excel in not only academic areas but with your skills and character development too. Barr Beacon School will prepare you for life beyond Year 11 or Year 13. So whatever route you may take, it will be perfect for you.
I am humbled to hold the prestigious role of Head Boy at Barr Beacon School, and, as your Head Boy, I want you to know you can always approach me with any questions or ideas you may have or to just have a chat! I'm here to listen, and I am here to represent YOU!
I.Sohail | Head Boy
---
Being able to say 'yes' to taking up of all the opportunities that have been given to me by Barr Beacon School is a privilege that I have never taken for granted. Joining the school in 2014, not only have I seen myself grow academically, I have seen growth within myself as I have developed numerous invaluable personal skills from the many opportunities that I said 'yes' to. Being part of a school that has provided me with a plethora of exciting opportunities, which have helped mould me into the young woman I am today, is something for which I am truly grateful. Due to the school, I have been able to take part in my Bronze, Silver and Gold Duke of Edinburgh Award, partake in a student exchange project in Sicily, gain valuable volunteering experience within the school and in the community, obtain three different healthcare-related work experience weeks and, gain interview skills with the University of Birmingham, providing me with support for my future after sixth form. These are only a few of the opportunities that the school provides to unleash the true potential of its students and, as Head Girl, I hope to introduce many more.
I hold the utmost pride at being part of a school which values its students and their self-growth. Thus, I am beyond humbled to be the Head Girl for a school that helps to pave the path for a journey of academia but a journey that will ignite the start of the rest of our futures.
H.Kumar-Mehay | Head Girl
---
I feel extremely privileged to be Barr Beacon's Deputy Head Boy. After being in the school since Year 7, I have always sought after responsibility and now I will do my best to represent everyone in the school and the wider community. I am looking forward to working with other members of the Senior 5 to create a sense of togetherness between staff, pupils and parents. I was selected to be a Prefect in Year 11 and in this role I looked after numerous new Year 7 pupils and helped them settle into their Barr Beacon journey. Since joining Sixth Form in September, I have been given once-in-a-lifetime opportunities that will help me succeed in my future, both in and outside of school. For example, I went to Bergen-Belsen concentration camp in February where I witnessed first-hand the horrors of the Nazi regime. I am extremely humbled to be representing a prestigious school like Barr Beacon and I hope that with everyone working together we can continue the great work the previous Senior Team did whilst adding some of our new ideas and maintaining the outstanding reputation Barr Beacon school has.
J.Anderson | Deputy Head Boy
---
Since 2014, when I first started at Barr Beacon, I have been provided with a welcoming, happy, safe and supportive environment where everybody's achievements are celebrated and where everyone is treated equally. Throughout my journey at Barr Beacon, I have been gifted with endless opportunities and experiences which have allowed me to blossom into the individual I am today. Throughout, thanks to the consistent help and support that has been provided to me, I have been able to accomplish more than I ever hoped I would. The incredible Sixth Form team is always there to provide an amazing support system and all staff go above and beyond in order to create the best environment for all pupils. Some of the experiences I have had include travelling to foreign destinations such as Iceland and Germany, representing the school in sporting events, and being selected to be Head Prefect and now Deputy Head Girl. This would not have been achievable without the incredible encouragement from all staff at Barr Beacon and therefore I am extremely proud to be a member of this school.
E.Allen | Deputy Head Girl
---
Barr Beacon School has presented me with a plethora of opportunities that have not only helped to shape my individuality, but they have also allowed me to build resilience and discover my true academic potential. With encouragement from teachers and a strive to ensure we are all 'Proud to Succeed', the school has persistently proffered various challenges to all pupils, allowing them to question their preconceptions and develop their abilities to adapt to new situations. Throughout my journey at Barr Beacon, I have been able to find myself as a person with the rigorous support and encouragement provided by the versatile teachers, career advisers and all other staff members. For this, I am more than grateful to have been a member of this school, and I am proud go represent the Barr Beacon as Deputy Head Boy. I will be forever grateful for my experiences at Barr Beacon as they have inevitably shaped me into the young adult I am today, and will hopefully have shaped me into the successful adult I strive to be in the future.
M.Hill | Deputy Head Boy