Day 7: This morning we went out on an airboat at Boggy Creek alligator spotting – we spotted 6! The largest was 9 foot long! We also saw 2 baby alligators. We then had a pit stop at Walmart to stock up on candy before we embarked on 3 hours of shopping at Orlando Premium Outlet and boy did we shop! A great end to an amazing week. We are now homeward bound. 
---
Day 6: This morning we returned to Kennedy Space Center. We spent time viewing the exhibit of space shuttle Atlantis. We learnt about NASA's 30-year space shuttle program. We took part in the Shuttle Launch Experience – a simulation of the space shuttle's eight-and-a-half-minute ascent into orbit! We listened to a pre-launch briefing by veteran space shuttle commander Charles Bolden before boarding the shuttle for an experience that veteran NASA astronauts call the next best thing to flying aboard the space shuttle. It was out of this world! We then returned to the classroom where the robotics competition continued. We used 'Lab View' to navigate a realistic mock-up of the Martian surface, navigating around targets and gaining points.  This exercise required a lot of skill and patience. At the end of the competition, all pupils were presented with a certificate before the winning team was announced. After lunch we spent some time on the beach and jumping the waves in the Atlantic Ocean. We spent our last night in Florida sat around a fire pit at the hotel, talking about the amazing experiences we have encountered this week. We then made s'mores from marshmallows, chocolate and crackers. We are looking forward to our final day before we start our journey home.
---
Day 5:  Our second day at Kennedy Space Center started off with a robotics competition – Space Trek Robotics. We learnt how to program a robot using 'Arduno'. Our mission was to navigate the robot around quite a complex route involving a few sharp turns.  The competition was fierce but fun!We then attended a private event 'Lunch With An Astronaut' where we enjoyed some delicious food whilst Scott Parazynski gave a short presentation before taking questions from the audience. We learnt a lot about life in space.  After lunch we went on a NASA bus tour of Launch Complex 39. WOW! We saw the tallest single storey building in the world, aligators, rocket launch stations and we sat in  the control room where Saturn V was launched from.  We learnt about all the failed attempts that were made to reach space and then  enjoyed hearing about the successful attempts. A very interesting and informative tour.On our way to dinner at a local restaurant, we stopped off for a spot of shopping at Ron John's Surf Shop. After dinner we took a stroll down to the beach where we saw a 'super moon'. This is when the full moon appears larger in the sky because it's orbit is closest to the earth. We saw its reflection in the Atlantic Ocean. It was stunning. We then had fun jumping waves in the ocean.
---
Day 4: Today we had our first session at Kennedy Space Center.  We had a lesson on the history of rocketry before getting into teams and building our own rockets ready for a launch competition. We were also privileged to listen to a speech delivered by astronaut Scott Parazynski. He told the audience about how his dream to become an astronaut started at the age of 5 years. We also heard about all his space missions. After his speech, Scott Parazynski posed for a photograph with us.
---
Day 3:  We have had a long but very enjoyable day. We started off with a 'Behind the Adventures' programme, at Islands of adventure, where we found out about what goes on behind the scenes, where the ideas for the rides come from, how the special effects are added and the costs that are involved.We were then given VIP treatment and we were allowed to take a ride on four of the big attractions without having to queue! These were: The Amazing Adventures of Spider-Man, The Incredible Hulk Coaster, Reign of Kong and Jurassic Park River Adventure.We then had the rest of the day to explore Islands of Adventure and Universal Studios. After dinner we returned to the park and watched the very colourful and entertaining Mardi Gras parade.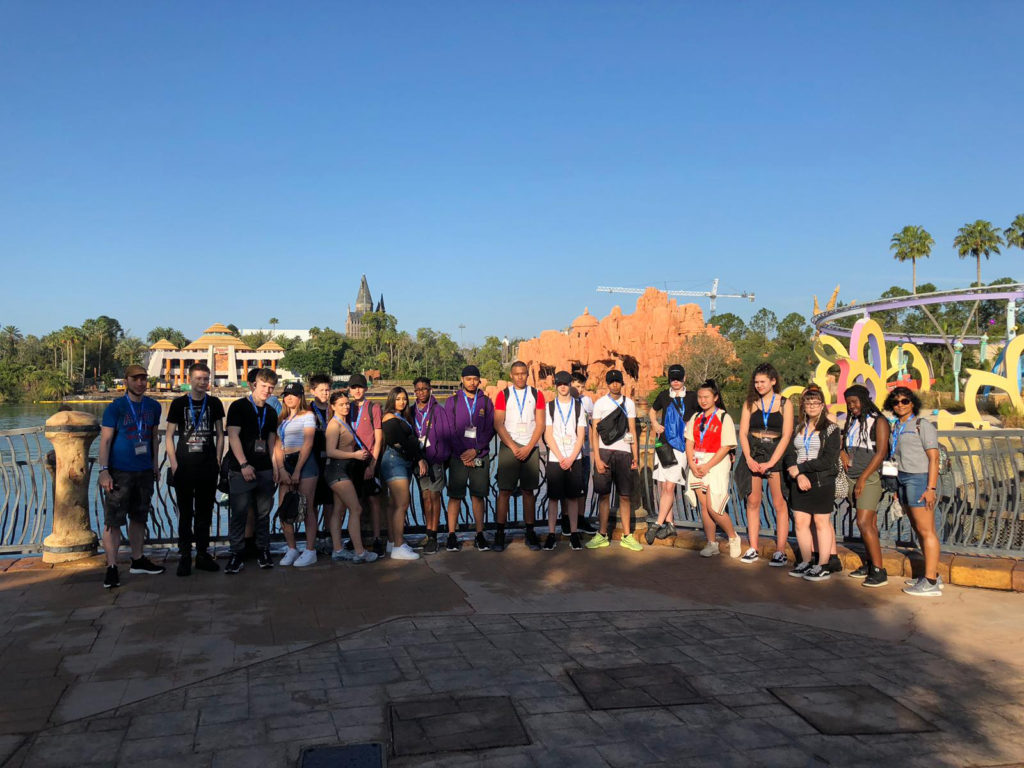 ---
Day 2:  After a long day of travelling yesterday, we arrived at the hotel and enjoyed our 'pizza party'.Today, we up early ready for an iFly experience this morning followed by an afternoon at Universal Studios.